Post by darsen. on Nov 8, 2011 1:35:05 GMT -5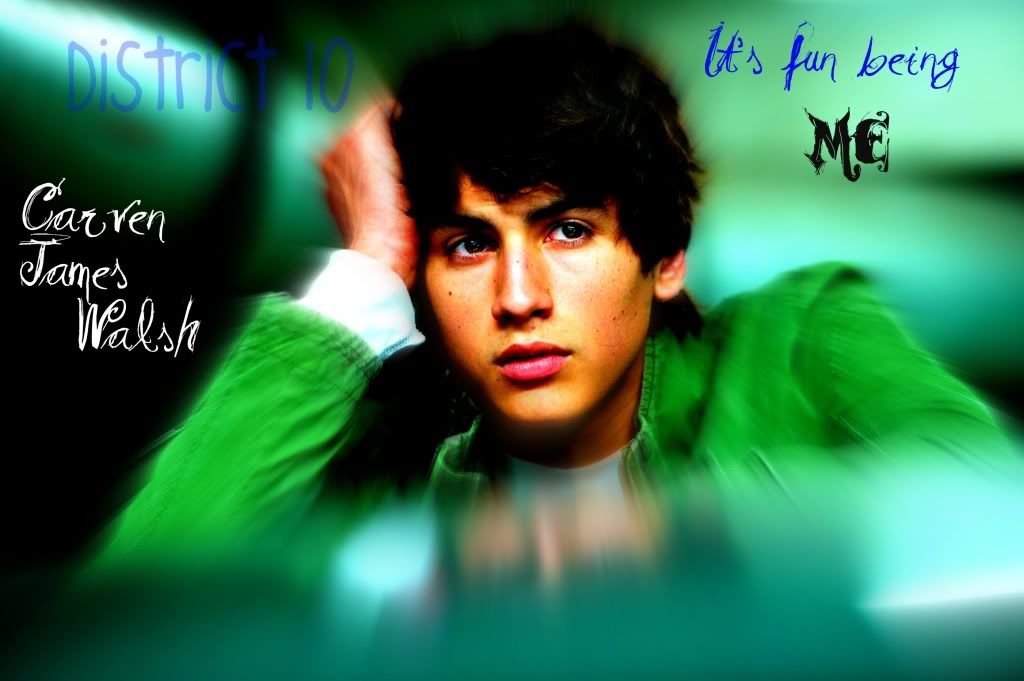 Name
: Carven
Age
: 15
Gender
: Male
District/Area
: District 10
Appearance
:
00C12B...Speech

Unlike my big brother Logan, I look just like mom. Instead of the shiny blue eyes, mine are a dark brown. I am darker than her is. WAY darker than he is. There are a few things we have in common. Our eyebrows are both flat and sink so low they almost cover our eyes. My hair is a deep brown that almost looks black sometimes. My ears stick out and make me look like a nerd, which isn't cool at all. My lips are the same heart shape as Logan's but they are a much deeper shade of pink.

I'm not a big guy like Logan. Mom says that he used to be just like me, but at about sixteen, he hit a huge growth spurt. Too bad I am only fifteen! I stand at a pathetic 5'7! I only weigh like 140 lbs! I work out with Logan when he lets me, so I do have some muscle, just not enough to be all strong looking like he is.

I hate being the same as everyone else, so I don't dress like they do. Rather than button-up shirts and cowboy boots, I wear bright green, blue, or silver T-shirts. I wear blue jeans that fit me well, and aren't to tight. I replace boots with sneakers. The regular old black ones with the white tips.
Personality
:
I think I'm a fun guy! People are always wanting to hang around me, so I must be considered popular. It is enjoyable to spend time with others. I can't stand to be alone. It seems like every time I'm alone, something bad happens. Mom and Dad were working late the same night Logan went to a party, my cat died. I stayed home from school one day, my Dad broke both of his arms after getting ran over by a tractor!

I get jealous pretty easily. I don't show it, of course, but it seems like all everyone talks about is "Logan." It isn't fair! I have to pretend to be him just so people will give me a second look! Not that acting like him is a bad thing. I actually enjoy it sometimes. I like to play the whole "tough-guy" side on things.

The one thing I have complete confidence that I am better at than Logan, is getting girls. Don't get me wrong, Logan is a ladies man. I am too though. I can get pretty much any girl I want. In fact, I have often pursued girls just to prove I COULD get them. Not lately. I do treat them with respect now that I have matured.
History
:
I was born in a month that we NEVER have school in, so I always get to go all over on my birthday. Being born in June has it's perks, true, but other people are always just as busy as I am during the summer.Growing up, I have always been out-shadowed by Logan, my brother. It seems like the only time I was recognized was when I was pretending I WAS him. I became a fake person. For a while, I didn't even know who I was anymore. It was hard to find myself again, so I promised myself to always try and be myself.

In school, I have ALWAYS had a load of friends. Most of the time it was because of who my family was when I was younger, but as I have grown, I've met a few cool people who like me for being...me. I have always been ok in school, but nobody you would applaud for having the best grades ever. You could applaud me for trying my hardest though! My mo used to get frustrated with me. Now, she just shrugs it off as if it is nothing.

These days, I'm still constantly busting my butt to keep up with everybody. My brother is getting closer to leaving home, and that means leaving me too. I don't want him to go, but I understand why he wants to. There is nothing left in that house. My mom has recently found out she is pregnant. I'm terrified that it will grow up living like I have. Not being able to go down their own path in life, and instead, following me and Logan.

Codeword
: odair
Comments/Other
:
FC is Ashton Moio