Post by Matt [Don't Ask Sam About V5] on Mar 17, 2011 20:22:04 GMT -5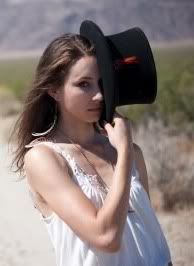 ELLEA . CHANNELLE . BANKS
Born the year of the 41st Games, making her 16 years old.
Born and raised in District 5.
Female.
Heterosexual.
THE . LOOKS !
Standing at exactly 5'11", Ellea Banks is considered to be a fairly tall sixteen year old. This teenager weighs at around 110 pounds, putting her slightly less than the average weight for a girl of her height and age. With long brown locks that match the shade of her tree-bark colored eyes, this girl may be called pretty by quite a few individuals. If only Ellea had the same positivity about her appearance.
Ellea suffers from a condition known as "Body Dysmorphic Disorder", known commonly as BDD. Because of this, the girl frequently feels as though she isn't worthy of anybody. Frequently the teenager finds herself gazing into a mirror, pointing out the flaws she hates most about her very thin and tall body. She at times says that she is too fat to look pretty, that her hair is stupid, that her eye color is jank. Whatever she believes, most of it is usually false. Ellea tries her hardest to find makeup in an attempt to look prettier. One thing that she has a reason to hate lies below her ankles.
While pregnant with Ellea, Lyric Banks was a smoker. Because of this, the eldest Banks child came out missing three toes; one on her left foot, and the other two on the right. Before, when Ellea was smaller, she didn't care about them and thought they were normal. Now, the girl sometimes locks herself in her room and cries because of the deformity. Ellea tries to disguise the limp, and has gotten better at it over the years. Ellea isn't passionate in showing much skins because of the toes.
THE . FEEL !
Innocence plagues the mind of the sixteen year old, separating her from the other sex craving, drug using youths her age. She isn't ignorant, though; she knows of sex, drugs, and alcohol, but she doesn't understand what the big deal of it all is. Unlike her peers, Ellea is the hopeless romantic type, always wanting to fall in love and never dating for the sex. This plays a large factor in not dating guys around the same age as she. Ellea believes that the boys her age are immature pigs, therefor prefers to only date older gentlemen.
Like most teenage girls, Ellea Banks strives to be popular. She loves the feeling of being wanted, the feeling that she is worth something. Ellea's deceased grandmother of whom she was very close with had always said that nothing matters more in the world than to be kind to the fellow humans. After she died a sad death. Ellea tries her hardest to take this advice to heart. Frequently she must make the choice to gain more popularity or to listen to her grandmother. Much stress is put on the girl due to this, and she must decide if being loved is more important than loving others.
Despite her attempts to be benevolent, Ellea can't help but be judgmental. Her hatred of her own body reflects on her finding the small flaws on other people. It's an attempt to make herself feel better; find everyone's hidden uglies so that she doesn't seem appalling to the eyes of the other students. The Banks girl is also neurotic; she can't help but freak out over the most minor of provocations. "Don't cry over spilled milk", her mother would always say, but the melodramatic girl always freaked out when a something small happened. She felt like her mother didn't love her anymore when she made a mistake.
THE . PAST !
Ellea Channelle Banks was born to Lyric Elizabeth Yoste and Cosco Williams Banks. Though Lyric didn't agree with commitment and marriage, the birth of her daughter changed her mind. She didn't want to be the lonely smoker who hooked up with men and then left. Through the birth of Ellea, Lyric learned that she truly loved Cosco, and the two married when Ellea was four. Ellea had it all, really; Enough money to get by without worry, and a family that genuinely loved her. The girl was a happy child, and wouldn't want it any other way.
Ellea had a close bond with her grandmother and was thrilled when her small family had the time to visit. Granny would always bake delicacies with Ellea and tell her stories of when she was a girl. Ellea's grandfather had died before she was born and fought in the war against the Capitol. Granny had gotten over her true love, though, and found happiness with her granddaughter. When Ellea was eight, Granny passed away in her sleep. The young girl was devastated and cried herself to sleep every night for about a week. After that, though, Ellea vowed to be as sweet as her grandmother was in honor of her best friend.
The years went by, and Ellea tried her hardest to stay true to her promise to herself. When she was thirteen, Ellea realized the loving attention of her parents was not good enough for her. She wanted to be loved by everyone, even though her grandmother warned her not to be absorbed in herself like that.But the adolescent teenager couldn't help herself. The feeling of popularity was too great, and she started to be mean to others, including her old friends she left behind to be the queen bee. Now, at age sixteen, Ellea has realized that even though popularity is nice, so is the feeling of compassion and love for others. Will Ellea turn into a stuck up snob who only cares about herself, or will she follow the advice of Granny and care about others more than anything?
--
Odair
--
Faceclaim is TROIAN BELLISARIO.
Text color is WHITE, though this will changed as the darkness inside her grows.
Speech color is CC0033, which will also grow darker.