Post by ʎpuıʍ on Apr 18, 2012 21:54:21 GMT -5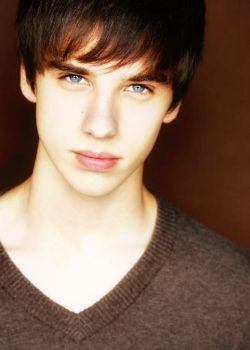 All around me are familiar faces
Worn out places, worn out faces
Bright and early for the daily races
Going nowhere, going nowhere
(name) Marshall Shale Moreno
(district) one
(age) fifteen
(gender) male
(sexuality) straight
Their tears are filling up their glasses
No expression, no expression
Hide my head, I wanna drown my sorrow
No tomorrow, no tomorrow
(appearance)
I suppose I'm considered average looking. Perhaps I'm even somewhat attractive. I'm certainly not as ugly as some of the unfortunate bastards back at the community home. I wonder if anyone would ever want that Quasimodo-esque child. Not me. Not even if you gave me all the riches in the world. That's besides the point. I'm honestly kind of attractive looking. I haven't measured myself in a while, though I'm a bit on the short side. I think I level out at about five feet and six inches. Innocent Marshy's got a Napoleon complex to boot. It's kind of hard not to have a Napoleon complex when you're short and violent. You have to be self-confident or else you'll be trampled over. I weigh in at about a hundred and thirty pounds. I've got more muscle than fat at this point, what with all of the training at the house. You either man up or you get cut up. Sometimes literally.

My hair is ridiculous to deal with. It's gotten longer in the past years and no matter how often I cut it, my fringe always manages to be a little bit longer than intended, namely, it gets in my eyes. It's tiresome trying to keep seeing what's ahead when all you see is hair. It's a dark chocolate-y brown too so it creates a dark wall of impassable sight. I've debated shaving it all off, but I simply don't think I could pull off the bald look. My eyes are really pale blue. They're almost like ice. It adds to the whole innocent thing. I look like a beautiful, happy child. You'd never expect me to attack at random, would you? My baby fat is still disappearing, sadly. If it would all just disappear at once, I would be eternally grateful for that. I can't really complain about my skin though. Considering my age, it's not too bad. Sure, it's a little oily, but that comes with the puberty. I almost never spend time outside, so I'm just about as pale as a ghost. I am Napoleon's ghost. Fear me.

Honestly, I hate my appearance for one reason and one reason only. My body is littered with scars. Big ones, little ones, light ones, dark ones, straight ones, curvy ones; you name it, I've got it. The one on my temple reminds me everyday to be prepared for anything that comes at me, even if it is beyond sight. Is it odd that that's the only thing that being tackled down the steps taught me? I've got tons of tiny scars on my hands from working with knives in my free time. As for the larger ones... Well, they're more painful to remember. Torn ligaments, scorch marks, stitch scars, everything. They mar my pale skin with even paler lines and unsightly splotches. If there is a scar to be had, I probably have it or will have it in the near future.
Children waiting for the day they feel good
Happy birthday, happy birthday
And I feel the way that every child should
Sit and listen, sit and listen
(personality)
I'm not what one would generally be considered nice. That is a common misconception. There is no innocent little Marshy. He exists only in vision and theory. I may look like a sweet child, incapable of violence or any harsh feelings, but that is false to the nth degree. It simply isn't true, nor has it ever been, nor will it ever be. It wasn't allowed for me while growing up. I didn't have the luxury of being able to be nice to people. When you live in a community home, you fight tooth and nail to get adopted. You claw at other people and force them out of your way in order to leave before them. You'd kill for it. Thankfully, it never came to that.

Because of my appearance, I'm deceptive. I give off false image that warps the expectations of my viewers before turning their preconceptions upside-down. I am not the small, kind boy you'd think I am. I am a fighter. I simply cannot make myself to be anyone else. No one else I would become would be able to survive the world I was born (or the one I was adopted) into. An innocent Marshy wouldn't be able to take the harsh reality of survival in a community home nor the day to day brutality at home home. It's simply not something I think his little heart could take. Because of this, I honestly have a hard time trusting any of my siblings. I just can't trust my rivals when it comes down to it, even if they do mean well by swiping at me with a knife. It's a difficult situation to be put into. I want attention. I want love. I just can't afford to go after it do to the risks I would have to take.

I tend to be very violent when provoked. Sometimes, I won't even remember attacking people. If baited, I simply can't be held accountable for my actions. (Nor and Lee tend to tell my what I did later through their array of cuts and bruises across their knuckles.) Honestly, I can't control myself when it comes down to it. It's like I see red. I only understand what happens later on when my own actions are explained back to me. It's kind of scary sometimes, not knowing your own body's response when you should be fully aware of your own actions. When it comes down to it, I am a shell of a boy waiting for an end of suffering and tribulation. The childish innocence I may have once had is gone.

(I am such a liar. There is innocence left. At the very least, there is hope for it. It may not be innocence in action or word, but all I want is love. I want a family that will love me and hold me and care for me. I want the family I was deprived of growing up. I want people I can open up to and trust in and be with all the time. Perhaps it is a lot to ask for. Perhaps it is too much to ask for. Every night when I go to sleep, I pray that I wake up from this nightmare of a life. I pray that I be whisked away by a family who will hug me and kiss me and cuddle me and sing to me and feed me and clothe me and talk to me and worry about me and be proud of me and love me for who I am, in spite of my inconsistencies and faults and damage. All I want is to be a kid again. All I want is a second chance to live. Is that so much to ask for?)

Went to school and I was very nervous
No one knew me, no one knew me
Hello teacher, tell me, what's my lesson?
Look right through me, look right through me
(history)
I'd lived in the community home my whole life. God knows how I got there in the first place. Parents? Not that I knew of. Whoever they were, they left when I was a baby. I spent my entire life there. Finally, after years, I was being taken. I was being removed from the community home. I was being adopted, a wish and dream and hope that I'd prayed for for years. I'd wanted a family more than anything in the world. I just wanted to be taken in and cared for, unlike the callous treatment I received at the home. There were too many children, too many mouths to feed, and too many problems to deal with. Mine simply weren't severe enough to warrant attention. Sure, I might have had a bit of a temper problem, especially when it came to Jaden stealing my books, but I could control myself. My fists couldn't. Jaden didn't even see them coming until they hit his face full-frontal. Even then, the caretakers didn't care about my problems. They didn't even believe I'd done it. Innocent little Marshy wouldn't touch a fly. It simply wasn't feasible in their minds. There was no way that it could even be considered. Jaden's broken nose was swollen for weeks. His temper last for years.

That didn't matter though, because I was getting a family and he was staying back to decay in that stupid community center with a black eye, also courtesy of my compulsive fists. Nothing mattered. I was going to be loved. However, it seemed that luck was not necessarily in my favor. Instead of a peaceful, kind, loving family, I got the Moreno family. There was nothing wrong with them unless you counted the fact that they encouraged all of their children to fight and injure each other in order to train for the Hunger Games, of which they were intent on having a winner. It didn't matter how you got there. They just wanted a winner. I'd been chosen to be part of their family and I had been saved. It didn't seem like I'd been rescued as they had insisted when I walked in the door and was immediately tackled down the front steps. I broke two ribs and had to get stitches on the side of my face. I was only twelve. I'd gotten in scuffles at the community home plenty, but this house was completely different. It wasn't the family I had expected. It was the seventh circle of hell itself, worse than the Hunger Games ever could be, in my mind. At least in the arena, you could run away and get sponsorship. At home, it was a free-for-all, all day match to whoever is left standing and able to breathe. There was no leaving. Family is forever.

The other kids saw me as the rest of the world saw me. Innocent little Marshy couldn't do anything. He was the easiest prey. There was no way he'd fight back. They didn't realize how wrong they were. For weeks, I played along with the charade until I finally snapped and fought back. Whoever was in my way got hit with a hot frying pan. I claim amnesia. My hands acted without my instructions. I swear. It became a competition. All of us kids were fighting nonstop and without remorse. There were hardly truces between waring parties, especially when someone picked a fight.. The wars seemed to last forever before there would be some kind of reprieve. On several occasions, I've woken up in the middle of the night convinced there was someone trying to smother me. I guess the stress just gets to you. I sometimes leave tacks on the floor just in case. There is no such thing as safe in the Moreno house in my eyes and I'm just as bad as the rest of them.

It's almost like a game. It's a sick and twisted game that we all play. We can't help it. I don't know what it is, but there's something about the environment that empowers cruelty. It embraces violence. It encourages ruthlessness. On the flip-side, it condemns compassion, in some cases. Sure, we're all brothers and sisters and they expect us to bondover knives and battle wounds, but real compassion, like crying for each other and whatnot, means weakness, something unacceptable in the Moreno house. It's simply not tolerated. I've come to learn that in my own time. I don't know their motives for becoming savage, how they've all gotten to be as vicious as they are . My own lie in my craving for a normal, family bond. I want that love, no matter what I have to do to get it. Now, I play the game just as well as the rest of them. I set traps. I think ahead of their actions. I turn tables. I dismantle ambushes. There is nothing I won't do to keep up with them. They won't beat me just because I'm poor, innocent little Marshy. I dare them to enter the marshes. Just try it.
And I find it kind of funny, I find it kind of sad
The dreams in which I'm dying are the best I've ever had
I find it hard to tell you, I find it hard to take
When people run in circles it's a very, very
Mad world... Mad world... Enlargen your world... Mad world...




(song) Mad World
(artist) Gary Jules
(faceclaim)
(code) odair